Archive for the 'Anti-Slip Flooring' Category
By stone1 On November 28, 2013
No Comments
There is a wide range of slip-resistance flooring that are used in different commercial properties including kitchens, changing rooms and toilets. They cover the spectrum of safety flooring requirements for these specific premises.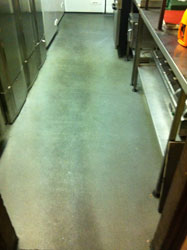 Meeting safety and hygiene regulations ensures the flooring has optimum slip resistance and offers the safest flooring environment possible. Anti-slip flooring has a slight texture and is long-lasting with the correct care.
It requires little maintenance and because of its resistance to chemical agents, it is easy to clean. If it is not cared for it will inevitably, over time, become ingrained with dirt and produces the opportunity for bacteria to multiply.
Due to the areas where this flooring is fitted, this is unacceptable and where our time-served anti-slip flooring services are required.
This anti-slip floor was deep cleaned in Hemel Hempstead. A commercial kitchen must kept incredibly clean and this kitchen floor had started to show signs of wear and tear.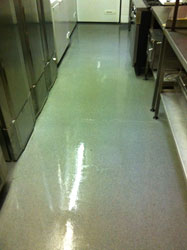 From the image before our restoration, you could also see exactly where the stream of foot traffic flowed through the kitchen.
The owner contacted us to clean and restore their floor and requested information on a routine maintenance programme so their floor never returned to the state that it was in. Their aim was to make sure they kept on top of the cleaning with our advice.
The after picture shows how we were able to deliver a gleaming, restored floor. It was visibly clean and hygienically clean as well; this complimented the sanitised kitchen units and gave the right impression on entering the room.
If you have any questions about cleaning anti-slip flooring or other floor care services that we offer, we ask that you contact us on 01494 727422. We look forward to the opportunity of working with you.