Archive for the 'Stone Types' Category
By stone1 On March 23, 2015
No Comments
The cleanliness of a business is at the forefront when contemplating important factors that define your Company. This outward appearance can instantly portray a positive or negative association for employees and clients.
There is evidence of an increasing drift towards the installation of natural stone flooring for commercial premises. This trend can be attributed to the fact that they are durable, relatively easy to maintain and are incredibly attractive.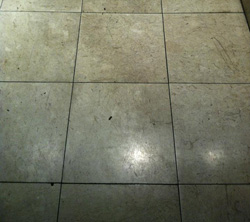 Inevitable heavy foot-fall over time will deteriorate the surface of the stone floor. This may result in scratches, worn areas, cracking or discolouration. This was certainly the case on inspection of this stone restoration job in Slough.
Our clients were frustrated with the deteriorated state of their stone flooring and wondered if it would be possible to restore them to a shiny, high-gloss stone finish.
We discussed the clear and concise process that would achieve this finish and timetabled the work around previously arranged business commitments. We are flexible in our approach to commercial stone cleaning in the aim to ensure that disruption is kept to an absolute minimum.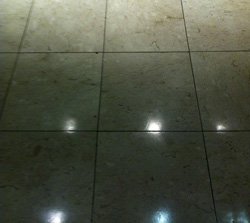 We are well-equipped to take on stone repair work as well as general restoration. We have built up a well-established local reputation and pride ourselves in delivering exceptional finishes.
To achieve the desired look we deep cleaned the stone tiles. The seal that had been previously applied had deteriorated and so left the tiles open to further decline.
This stone sealer and residue needed to be stripped back so that the stone floor and grout lines could be deep cleaned and re-sealed.
Our client really appreciated the high standards of workmanship and level of customer service that we offered.
Stone restoration services provide an incredibly hard-wearing and protected floor. If you would like to enquire about our comprehensive provisions we would invite you to call our friendly staff on 01494 727422.