Cleaning Terracotta Tiles Watford
By stone1 On October 15, 2013
Under Terracotta Tiles
Terracotta tiles are instantly recognisable and exude warmth with their reddish-brown colouration; their history is linked with the Mediterranean and warmer climates, making them a hugely popular stone flooring.
Terracotta is a statement floor tile, available in a range of finishes, tile shapes and sizes, which allows true individuality when choosing to lay these tiles in your home or business. They are durable and versatile and have a natural feel and texture.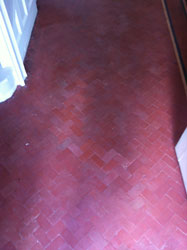 Terracotta flooring can be, however, challenging to clean thoroughly. Grout lines are prone to staining and it is likely that when you are completing your routine mopping that dirt is being pushed into grout lines, building up over time. The likely conclusion is that home cleaning methods will not be able to clean this staining.
We were invited to complete this Terracotta cleaning job in Watford. This image shows the poor condition that the tiles were in prior to our arrival. They were stained, dull in appearance and really weren't looking their best.
Having stone tiles in your entrance is a brilliant and functional flooring choice; a great welcome if they are looking bright and clean, but uninviting if they have suffered from years of wear and build up.
These beautiful Terracotta tiles were first cleaned of any dirt, soil or dry particles. A stone-specific pre-mixed cleaning solution was then applied to the flooring. Our industrial rotary machines were then used to agitate the solution, which was then rinsed.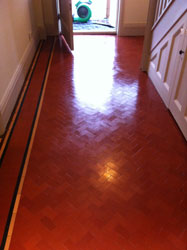 Our professional stone cleaning machinery reaches into every corner and to the edges of your stone floor tiles to make sure that we achieve a seamlessly restored stone floor. We ensure to protect all of your skirting boards and furniture while this process is taking place.
The Terracotta floor was then thoroughly dried with our fast-drying machinery in order to start the stone polishing phase. Diamond encrusted rotary pads are used to achieve the polished sheen that this customer was looking to achieve.
These tiles were then sealed by hand which ensures that our results are long-lasting and that the stone has acts as a natural repellent against liquid spills, staining and mildew build-up. The end result was incredible and our customer was thrilled at the stone restoration process. The once dirty grout lines were now as spotless as the tiles and hygienically clean.
If you are looking for a specialist to complete your Terracotta restoration project please call Clive on 01494 727422 / 07765 955312. We are specialists at grout cleaning and offer this service for all types of natural stone tiles and man-made tiles throughout Buckinghamshire.