About Us
We originally started our carpet cleaning company in 1999. As the years have moved on we noticed more and more we were being asked if we were able to clean hard floors. These included natural stone and sometimes clients were also in need of stone repairs.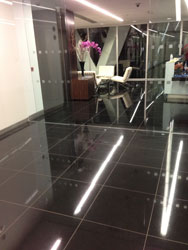 As we were only trained in carpet cleaning, we found ourselves in the position where we were unable to help. Identifying the popularity of stone flooring and the requirement for restoration and repair, we undertook the intense training that was required to provide these services for our clients.
Extensive training is available and we invested time into this. We then purchased the industrial machinery required and the best-available stone cleaning products.
It takes time and experience to gain the knowledge required to understand the individual requirements of different types of stone. We are fastidious about our approach to restoring stone and appreciate that our customers experience must be our priority.
We have since built on our local reputation and can confidently offer the highest level service possible. A large percentage of our work is earned through repeat custom and client recommendations. Over time we have completed many successful stone cleaning and stone restoration projects.
You can count on us to help you keep your investment looking great and lasting for many years, should it be cleaning, refurbishment or repair.
We are able to offer domestic stone cleaning and commercial stone cleaning services and enjoy the challenge of bringing new life back into beautiful stone tiles.
Our Promise to You:
We will make sure to answer your queries quickly and comprehensively
We will always be on time for our appointments
Your home or business will be treated with respect
We achieve the best-possible results, without exception
Our approach is friendly and professional
You will be left with advice on how best to care for your floors