Our Services
Stone Floor and Tile Restoration
We are very proud of our stone floor and tile restoration service and work closely with our customers to ensure we restore their stone floor to its former state.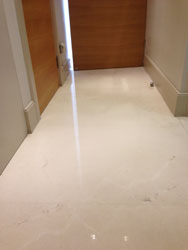 Limestone, for example, is a more porous stone than harder wearing stone such as marble and is more prone to scratching.
Using specially made abrasive pads, our floor machines grind the surface of the stone, then hone it to remove the finer grains of dirt before polishing it with unique products for that particular type of stone floor, ensuring a high-class finish.
Using individually designed products for cleaning specific stone floors along with our specialist cleaning equipment, we can clean the dirtiest and stained floor whilst protecting the natural state of the stone, therefore enhancing its authenticity.
Cleaning natural stone floors requires the professional touch to keep floors looking like new for as long as possible and each type of stone needs specific requirements.
We can advise our customers on a floor maintenance programme to keep their stone floor looking pristine, taking the worry off our customers, who can relax in the knowledge that their floor is well cared for.
If you would like to find out more about our stone restoration or stone repair services please call us on 01494 727422 today. We look forward to the opportunity of working with you.