Repairing damaged worktops is so rewarding. Stone kitchen worktops are incredibly popular. They are available in a huge variety of colours and types. They are also popular because of their durability as well as their aesthetics. While is very difficult to damage stone worktops, it is not impossible.
Can you repair damaged granite?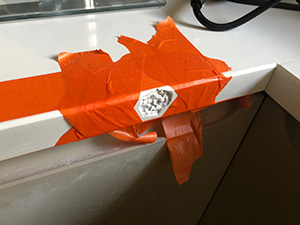 Yes, there are comprehensive services available for granite worktop repairs. Techniques and products have been developed in order to produce exceptional, non-visible finishes. Most would not believe the possible results.
Cracks, fissures and indentations to your granite worktops can all be repaired. It is vital that you are well-informed when beginning any repair work. Further damage can be caused with a lack of information or understanding of how to repair worktops.
With proper care, a stone worktop can last for years, decades or even centuries. We are able to offer support and assistance to restore your damaged worktop to like new. There is no need to panic about the damage before seeking our advice.
We are always open and honest about the results we feel are possible. If there are any limitations, we will make sure that you are aware of these prior to work starting. It is best to be honest.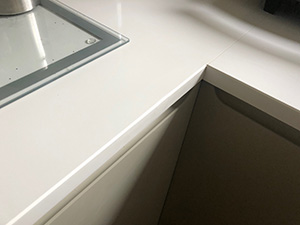 This is a stone repair project we completed in Gerrards Cross. The damage caused was quite intensive. However, we feel confident that you will agree of the transformation. This means that our client has been able to avoid costly replacement. Most would assume this damage was too bad to restore. Being well-informed ensures people are not left feeling that their only choice is to replace their cherished worktop.
Many individuals don't realise that a lot of stone care advice is more in relation to protecting the finish than the actual stone. The protective layer is so important; it protects the stone underneath. This forms a pivotal part of any stone restoration work. Are you looking for help with repairing damaged worktops? Call Stone Reflection today on 01296 294304. We are here to help!