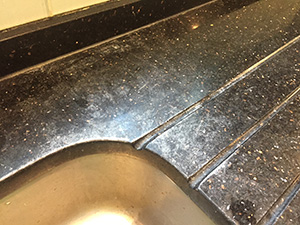 Restoring damaged worktops is a real art. Even some of the most damaged granite worktops can be repair and restored to like new. This process takes great care and skill. However, when dealing with a professional stone restoration Company, you have the assurance needed. These images show parts of the process used to restore these damaged worktops.
Hardwearing granite can lose its shine after years of misuse. It is important that if you are in a place such as this that you don't despair. Don't forget that if you are in Buckinghamshire then you can give us a call to ask any questions you may have.
Some tips to ensure your granite looks its best: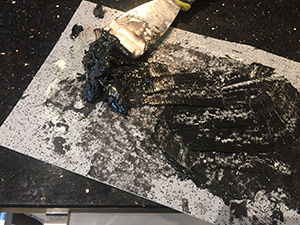 Fill cracks and chips
Although rare, cracks and chips in granite should be filled with matching stone paste. It is important that areas of damage will need careful repair work in order to hide the repair.
Found a crack? Make sure that you are able to identify the cause. If it means that the crack was caused by the worktop not being appropriately supported, then it is vital to sort that first. Otherwise all of your work will be fruitless, and the crack will soon reappear.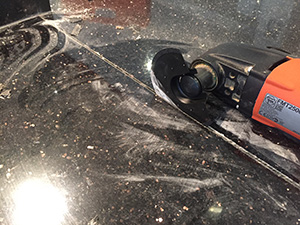 Make sure to clean your granite thoroughly
If granite has not been well cared for or it has been damaged while building work has been completed, it will need to be cleaned thoroughly. You should start by cleaning the stone with a gentle stone cleaning product. It is important not to use scourers or any other abrasive cleaners. Regular cleaning will ensure deteriorating factors are lot left to further damage the worktop.
Specialist granite polish can help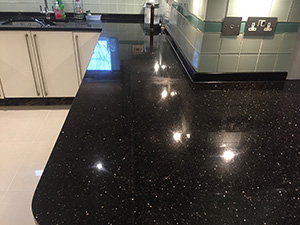 If deterioration is further damaged or has dull patches, it may be time to buy a specialist stone cleaner. It is important to choose one designed for granite that you follow the instructions precisely. Remember this will likely restore the shine but it won't hide major damage.
Ask a professional
If damage is more extensive it is important to consult a professional. We are equipped to repair, restore and re-polish granite worktops and other stone surfaces. Call today on 01296 294304.