You may often hear stone cleaning professionals discussing the importance of sealing stone. Stone floors and worktops are natural materials. Dependent on the type of stone, they are all porous in varying levels. When the tiles or pieces are installed, they will be appropriately sealed. This seal does not last forever.
Wear and tear work away at the surface of the product and reduces its ability to protect the stone underneath over time. The rate that this happens really does depend on the level of use and cleaning routines. For stone that is regularly used and not appropriately cared for, this seal will wear away at a faster rate.
What do we mean by not appropriately cared for?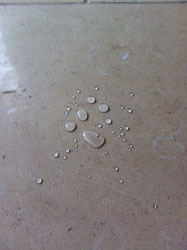 This can happen in a few ways. This may be that incorrect products are used when cleaning your stone. Some are too acidic, and some are just not matched to natural stone. Another consideration is cleaning routines and techniques. If the correct methods or techniques are not used, then it is likely to act as a corrosive influence. This can be as simple as using a scourer to clean your stone. These are too hard for natural stone and can dull, scratch and etch your stone over time.
A quick test:
To test your stone's seal is easy. You can put some droplets of water on the surface. If they remain on top of the surface as droplets, your stone is still sealed appropriately. If the water soaks into the stone, then it needs resealing. Most professionals recommend that you seal natural stone every couple of years. For much-used areas and problem areas, this can be done yearly.
What will stone sealing do?
It will elongate the lifespan of your stone
Your stone will be better protected
It will look better
Your stone will no longer absorb liquid, food or bacteria and will therefore by more hygienic
If you would like to find out more about our stone restoration and stone sealing services, please call 01296 294304.