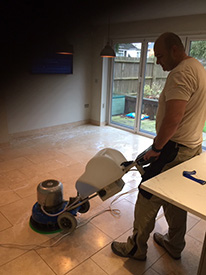 Cleaning travertine tiles demands an in-depth understanding of how to deep clean natural stone. Natural stone cleaning techniques vary from those for other tile types. Natural stone is porous and can be stained and etched during the cleaning process. This happens with the use of the incorrect products and inappropriate techniques.
Common errors include:
Using too much liquid
Leaving the liquid on the tiles for too long
Using abrasive or harsh scouring pads
Use of incorrect products such as those that are too acidic
Scrubbing at any particular stain too much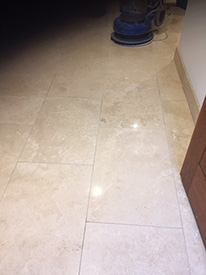 We were asked to deep clean and restore these Travertine tiles in Marlow, Buckinghamshire. Stone sealers over time wear down and can no longer protect the tiles underneath. Therefore, it is important to remove all old coatings. In this process the tiles are resurfaced and cleaned in preparation of resealing.
Stone restoration machinery offers fast and efficient deep cleaning. This process breathes new life into your floor tiles.
However, we really advise that you reseal your tiles on a regular basis. This will ensure that your tiles remain looking at their best at all times.
Travertine tiles offer many benefits. Some include: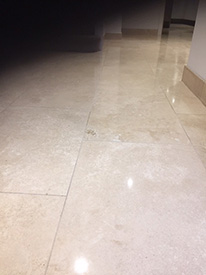 Water and moisture resistance
Available in a variety of finishes and colours
They are incredibly durable and versatile
They are easy to care for (if restored correctly)
Offer really attractive appearance
What are some of the toughest challenges of stone floors? Most report challenges in looking after and keeping their grout lines clean. Part of our stone cleaning process deep cleans your grout lines and offers full protection against further staining.
Our top tip is to make sure you keep on top of this. We have the information and knowledge of how best to tackle this. If you would like to arrange a free no obligation quotation, please contact us today on 01296 294304. We are experts at cleaning travertine tiles.