Limestone cleaning is a rewarding process. Limestone tiles are beautiful and naturally warm. Furthermore, they instantly lift a room and offer elegance and opulence. They are available in a large range of colours from whites and creams through to black.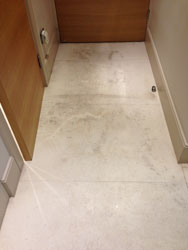 Limestone flooring is versatile and durable. As a porous natural stone, it requires specialist knowledge in order to get the best possible stone restoration results.
We are passionate about limestone. Our time-served experience has allowed us the detailed knowledge required to restore and repair limestone floors, fireplaces and counter tops.
We were invited to restore these limestone floor tiles in Slough. Over time they had become marked, dull and scratched.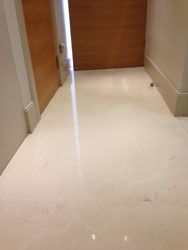 We offered a full inspection of the flooring in order to provide a written quotation.
Once accepted, we set a date for the work to be completed. We work hard to keep our clients well-informed throughout the cleaning process.
We protect all skirting, furniture and walls and treat your home or business with respect. Additionally, our team offer the highest level customer service, earning us repeat work and recommendations.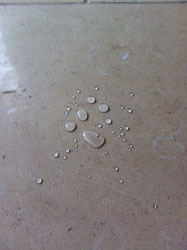 This picture shows the limestone tiles after our full restoration process. It really does show the incredible transformations that can be achieved. The owners were absolutely astonished by the results.
This picture is a close up of the limestone flooring once it was treated with our specialist limestone impregnator solution.
This provides a protection against liquid spills and a natural resistance. It is a vital part of the process and we are happy to discuss your options with you prior to work starting.
Stone restoration is a hugely rewarding process and limestone cleaning is just part one element of our specialist services. We invite any enquiries by calling Clive on 01296 294304.