Marble tiles are understandably one of the most recognisable stone tiles available today. They are timeless in their appearance. Furthermore, they look great in both domestic and commercial premises. Marble floors are incredibly hard wearing and hugely popular.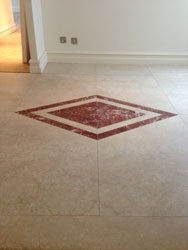 Periodic marble cleaning and marble polishing will restore your tiles to their former glory. Additionally, it will inhibit ground in dirt and avoid unnecessary deterioration.
Our industrial machinery and products specifically clean marble flooring. Honing creates a smooth surface. After comes buffing or polishing to create a shiny finish.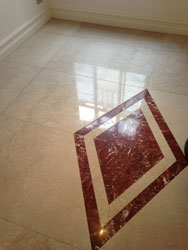 We were asked to restore this marble floor in High Wycombe.
The customers' stone flooring had suffered many years of neglect and was dull in appearance. It required minor stone repairs which we were able to carry out to a very high standard.
We are fastidious about our approach to stone cleaning. Furthemore, we listen carefully to individual client requests as to the finishes they are looking to achieve.
If your marble floor is scratched, deeply soiled or has years of build-up, a marble restoration programme will be best suited. This picture shows the result after the marble cleaning process. The result speaks for itself and we received repeat work through recommendation from this client.
We can discuss a general maintenance programme with you. Furthermore, this makes sure our results are long-lasting. We work hard to offer competitively priced services throughout High Wycombe and Buckinghamshire.
Comprehensive Marble Cleaning Services
Please feel free to call on 01296 294304 to discuss any marble polishing or stone cleaning enquiries. Our stone cleaning services are fast, efficient and cost-effective. We offer great value for money with our specialist service. We care about our clients, the results we achieve and their experience. Marble cleaning can be quite a complex process. Therefore, you shouldn't struggle on your own and ask for our help!