Restoring commercial stone floors demands an individual and tailored approach. Why is this? There are many considerations including: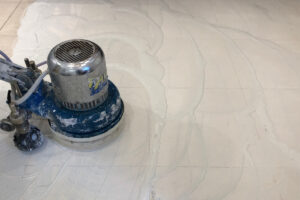 The fact that the space needs to be emptied prior to work starting. This inevitably means disruption for usual businesses. While we are completing our stone restoration work, it is always important that disruption is kept to an absolute minimum. Therefore, the machinery, techniques and products play a really important role. Our provision is quick and efficient, with the guarantee of exceptional finishes. This allows our clients true value for money with a second-to-none aftercare service.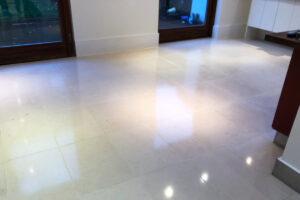 Safety needs to be taken into account with every project. This is for the people working and for any customers that may be visiting the premises. As professionals, we always take safety very seriously. For our staff and for everyone else involved. This does step up when cleaning stone floors in commercial properties as there are more people to consider.
All budgets are different. Many businesses have a cleaning budget available and dedicated to ensuring their business looks as it should. A way in which we can assist this is with our stone cleaning maintenance plan. This allows us to take full control of cleaning and maintaining your stone floors. We build and tailor a plan around your needs in order to clean and maintain your floors through various visits. This really is a cost effective and comprehensive service.
Stone Floor Cleaning Service:
Would you like to find out more about restoring commercial stone floors and stone cleaning services? We have vast experience in the trade and a real passion for delivering exceptional results. If you would like to find out more, or have any questions, please call today on 01296 294304. We take the time to explain our services, the results we expect to achieve and ongoing care, so your stone flooring remains looking at its best. It is important to find a stone cleaning company with experience. We have over 20 years experience and feel confident that we are able to help with your stone restoration needs. Furthermore we make sure our clients are happy with the results. This means that you can feel confident when using us. Call today.