Granite worktop repair is generally not a process people wish to undertake on their own. That moment where you see damage can be quite traumatising. Furthermore, Granite worktops are expensive to install. You are not wrong to assume they should last a lifetime if correctly maintained. However, they are not indestructible.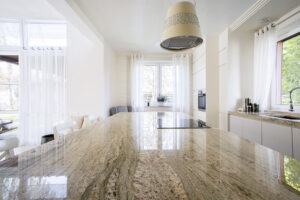 Granite worktops are available in a huge range of colours. Some are plainer in their appearance and others have textures to offer character. You will be pleased to know that all types of granite can be repaired and restored. This takes great skill and knowledge of the products. This offers the best, long-lasting and least visible repair.
Although there is a lot of information online about granite worktop repair, it does not mean it is the right thing to do. Incorrect use of products or the machinery can cause damage. This needs to be avoided at all costs.
Granite Repair is a Cost-Effective Service
Our service is competitively priced and offers great value for money. We have worked throughout Buckinghamshire and London for many years. From this we have built up a reputation built on delivering brilliant results, without exception.
Did you know that repairing granite worktops is possible? Some of our clients enquire about our services, not knowing if it is possible. It is important that our clients know that this service is available. We make sure to discuss the process and options available for our clients. We will always discuss any possible limitations and take great pride in our work. Our website offers information, advice and images of previous work we have completed. We make sure to go the extra mile to ensure our clients are confident about every aspect of the project.
If you would like to find out more about granite worktop repair, please call today on 01296 294304.