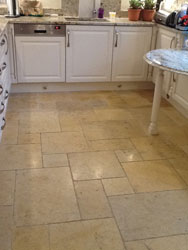 We have been busy cleaning limestone tiles. These pictures show the before and after of a limestone floor that we restored in Great Missenden. We specialise in stone restoration services and make sure that we go the extra mile with every part of the process.
This has allowed us the benefit of a well-respected local reputation for delivering exceptional finishes and customer service.
Our clients were so pleased with how their limestone tiles looked after deep cleaning and restoration.
They were very kind in offering us this wonderful testimonial:
"I am delighted with Stone Reflection and their high standard of customer service and the quality of their work. I emailed them on a Saturday night, having found them using Google.
My limestone kitchen floor looked dull and the ivory grouting was dirty. I was at my wits end trying to clean it and make it look good again. To my surprise, Clive emailed me straight back. Then he arranged to come to see the floor on a Bank Holiday Monday – pretty good service, I thought! He told me it needed cleaning and re-sealing.
Clive and Joe arrived bang on time, on the agreed date. They moved all the furniture for me and worked away with no fuss. They were very pleasant and helpful.  A few hours later I had a beautifully clean, polished limestone floor that looked even better than when it was new.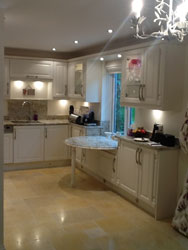 The bright ivory grouting (big mistake!) had mellowed and looked a calmer beige, which blended much better with the stones. The whole room looks lovely again. So I will now recommend Stone Reflection to everyone and they are returning to clean my carpets soon. Thank you, Clive!"
Why Choose Stone Reflection:
Our client's positive experience is our priority
We have time-served experience allowing us to tailor our services
Our knowledge of stone cleaning products means that we can offer exceptional finishes
If you would like to enquire about our services please call our helpful staff on 01296 294304.