Slate floor cleaning offers great reward. There is huge variety available when looking to source slate tiles. This metamorphic rock can be found in different colours and shapes. This allows for true individuality when laying these tiles. Slate tiles offer a naturally slip-resistance surface and can therefore be the ideal flooring for a kitchen or bathroom. Many would say that it produces a rustic and natural feel to any space, whether traditional or contemporary.
Whilst slate flooring is a great source of thermal resistance, it can sometimes be prone to slight cracking and flaking. Although slate is durable, it is likely that over years of use that your beautiful slate floor may look dull and has lost its original lustre. If this is the case, it is unlikely that shop-purchased cleaning products will revive your stone and you will require the assistance of a stone floor cleaning and restoration specialist.
Slate Floor Cleaning Process: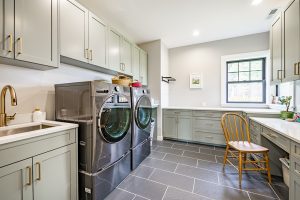 Your chosen professional will offer a wide range of benefits to your stone restoration project including faster completion of the work, a superior finish, time-served experience, stone-specific knowledge, industrial machinery and incredible products, specifically formulated for slate. The process to which they will restore your floor is as follows;
Step 1: a careful inspection of your slate floor will be completed. This will provide the opportunity of discussing the necessary work required, stain removal, any possible limitations and timescales of completion. From this inspection; you will then receive a written quotation on headed paper to confirm the exact price of the work.
Step 2: preparation! Your home or business needs protecting from the slate cleaning process; walls, skirting, furniture and possessions should be protected and covered. This makes way for all dirt, dry particles and soil to be removed.
Step 3: a cleaning solution is applied. Slate is a natural stone and will require in-depth knowledge of the exact products that will achieve the best possible clean without damage. Industrial-strength rotary cleaning machines are then used to agitate the cleaning solution, which is then rinsed thoroughly and dried.
Step 4: sealing your slate. This is an incredibly important part of the process and aids the long-lasting results that professionals can achieve. Not only will this help towards repelling liquid spills but it will reduce mildew build-up on your tile and grout. This process is managed by hand and a colour enhancing sealer can be used to really give your slate floor that wow factor.
Our Advice:
The above information provides detailed confirmation of the intricacies and delicate nature of slate cleaning. A floor care specialist will have a true understanding of the process, the best products and the best-available machinery. You will be left feeling confident that your slate floors are in the safest hands. Furthermore, the restoration results will offer confidence that a professional floor care is the right decision for your beautiful slate.