Commercial stone restoration is a specialist area that we take great pride in. Commercial floor cleaning requires a prepared approach. This is often due to the scale of the project. It is often much more of a challenge to ensure a seamless and even finish. Further preparation may also come into play way before we enter the building.
Depending on what the space is used for, it may mean that a lot of furniture needs to be moved and stored temporarily. This can be quite an effort if there is a lot of equipment and desks. However, there are settings where this may not be the case. Sports halls, village halls and bathrooms don't generally take much time to clear.
Commercial Stone Restoration – What to Expect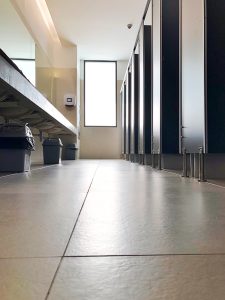 When you request a quotation for commercial stone restoration, we will guide you through the process. This is all part of our customer service. After surveying the floor, we will then provide a comprehensive quotation to complete the work. Once agreed, we will then look to set a date to complete the work. At this point we will offer information and advice on preparing the area.
All old coatings need to be removed. These may have been deteriorated. A combination of product formulations, techniques and machinery is used to complete the process. Stone restoration as a service takes into account all elements of the process. This includes deep cleaning, polishing (if necessary) and further protection.
This is a cost-effective service. We offer great value for money and with this comes advice on regular cleaning. It is important for our clients that they get long-lasting results from our stone floor restoration service. We work hard to earn your custom for life and are confident that you will feel confident in your choice when dealing with our skilled team.
If you would like to find out more about our services, please get in touch by calling 01296 294304.