Terrazzo cleaning yields incredbile results. Furthermore, Terrazzo tiles are very distinctive in their appearance. They were traditionally formed by exposing marble chips and other aggregates on the surface of concrete or an epoxy-resin. This is then polished to produce a smooth surface.
The fascinating thing about a Terrazzo floor is that no tile is ever the same. It allows for an intriguing design that is also very functional. This means that they are popular in both domestic and commercial settings. You are likely to see Terrazzo in train stations, airports, shopping centres and supermarkets.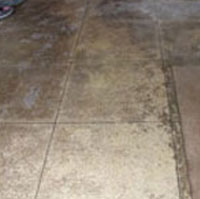 We were asked to clean and restore these Terrazzo tiles in London. Stone Reflection have varied experience in commercial stone cleaning. We realise that the requirements differ from those of domestic clients. Additionally, we will work to be flexible around business commitments and ensure minimal disruption.
The Terrazzo cleaning process ensures that your stone flooring is hygienically clean. Additionally, we leave you with information about routine maintenance to make sure our results are long-lasting.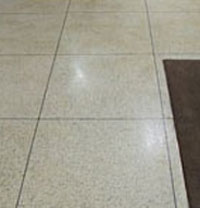 Stone Reflection offer a full and comprehensive restoration service. We invest in rigorous training, state-of-the-art machinery and specialist product formulations to make sure we are able to offer the best possible results.
The picture showing the end result demonstrates the possible incredible results. Beautifully clean stone floors offer the right impression of your business. Furthermore, it is also inviting to both customers and your workforce alike.
If you have any question about restoring Terrazzo flooring please call Clive on 01296 294304. We will be happy to discuss your options with you and will use every opportunity assure you that you are dealing with a time-served specialist.
What Can You Expect?
From your first point of contact we offer a professional service. Your enquiry is important to use and we will make sure to answer questions in a timely manner. We will always arrange site visits at a time convenient for you. Furthermore, we will always act in a professional and friendly way. It is important to us that your experience is positive. Therefore we will use every opportunity to ensure we exceed your expectations. Feel free to ask any questions. We are happy to discuss all elements of the cleaning process with you.