Marble restoration offers true transformations. Marble floors have always been a popular stone flooring. The advantages of installing them have made sure that this popularity has continued in recent years. Benefits of marble tiles in your home or business far outweigh the additional cost incurred for choosing this stone tile.
Marble provides a true statement for anywhere. It also lends itself to being suitable for all rooms and areas within a home. It is an incredibly hard-wearing stone. Marble offers durability in areas where there is high foot traffic. Marble tiles are great in bathrooms, kitchens and utility rooms as they are resistant to moisture.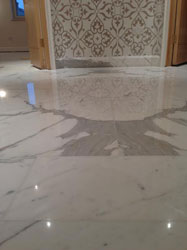 With the right advice, routine marble cleaning is low maintenance and easy. Minimal care with maximum benefit will leave you with a gleaming floor.
Installing a natural stone floor in your home will reduce allergens and bacteria. With proper maintenance can offer a much healthier environment.
If your marble floors become dull and dirty over time and through use, the marble restoration process restores your flooring back to its original lustre.
We were asked to restore this marble floor in London. Stone Reflection have vast experience in this process and have a tailored service;
Marble Grinding:
This strips back the existing surface, removing any old coatings and delamination.
Marble Polishing:
This further grinds the tiles with diamond encrusted grinders, producing a smooth and shiny finish.
Marble Sealing:
This process, managed often by hand, seals the marble tiles. This makes sure that they are resistant against liquid spills and the build-up of mildew.
If you have any questions or would like to arrange a no obligation quotation please call Clive on 01296 294304. We go the extra mile to make sure every stone restoration project is managed with the highest level of professionalism. We also make sure that our customers receive the best possible care.