Are you looking for help cleaning travertine tiles? Travertine tiles are timeless in their appearance. Furthermore, they are experiencing a huge increase in demand as they are laid in many contemporary homes. An expanse of travertine flooring oozes class and sophistication and is brilliantly suited for homes with children or animals due to the ease of routine cleaning.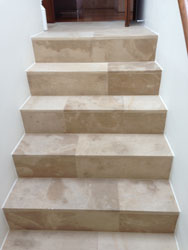 Travertine is available in a variety of shaped tiles; but the main difference with these tiles is whether they are unfilled or filled. They can be laid in a modular fashion, a brick bond method or simply laid in lines. Travertine mosaics are also available for that truly detailed finish.
We were asked to restore this amazing travertine stair case in Gerrards Cross. It is very rare that we have the opportunity to restore such an individual and stunning stair case. As you can imagine this area of any home suffers from wear and tear and foot traffic. This results in the floor tiles becoming dull and scratched over time.
We used our specialist rotary machinery and stone polishing processes to restore these travertine tiles. They were then sealed by hand to make sure that our results are long lasting. This client wanted to discuss a routine maintenance program to ensure that they could keep the stair case looking its best.
The installation of this stairwell took skilled craftsmanship and it was a pleasure to follow this up with experienced and specialist stone restoration. Stone flooring, if looked after correctly, can last a lifetime.
If you would like to find out more about the services that we offer please feel free to contact Clive via our contact form or by phone on 01296 294304. Don't struggle cleaning travertine tiles on your own. Ask for our help!