Amtico flooring is vinyl-based and recreates the appearance of other flooring types. Additionally, there is a huge variation in texture, colour and style. It is incredibly durable and can be restored. Therefore, it is so well suited to both domestic and commercial properties.
We were asked to restore this amtico floor in a hair salon in Beaconsfield. Through use and wear the top layer had started to delaminate and required restoration to return it to like-new. Amtico and other vinyl flooring require specialist machinery and cleaning products in order to restore it without damage.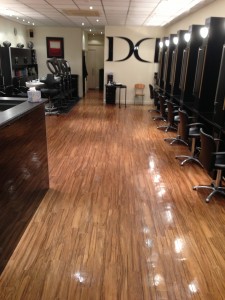 Commercial floor cleaning demands a different approach. We do all that we can to ensure that the disruption to your business is kept to a minimum. Once we have inspected the flooring we are able to provide you with a written quotation. At this point we will be aware of time-scales and will discuss these in detail with you.
Where possible we work to be accommodating around business events and work flow. We use every opportunity to offer assurance that you are dealing with a reliable and reputable Company. We promise an efficient turn-around of your floor restoration. Furthermore, we offer consistently competitive pricing.
The results of this amtico restoration job were incredible. The salon owner commented on how impressed they were with the results. First impressions in business are important and they felt as though their beautifully restored flooring portrayed the right image.
Our experience with Amtico has allowed us to offer brilliant floor care services for this versatile and extremely popular flooring. If you have any questions or would like to arrange a no obligation quotation please contact us on 01296 294304 today.