Limestone Restoration High Wycombe
By stone1 On October 11, 2014
Under Limestone Tiles
Limestone is an incredibly eye-catching natural stone tile. It fits well in both contemporary and more traditional business and home settings. We were invited to grind, polish and re-seal these beautiful limestone tiles that were laid in a gentleman's toilet.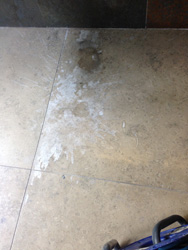 The before images show how dull the limestone flooring looked prior to our tailored restoration process. There was no getting away from the fact that they looked lifeless and unsightly and did not provide the upper-class image that the establishment wanted.
The stone grinding and polishing processes utilised our state-of-the-art machinery and this was used in combination with industrial-strength, eco-friendly products. This provided an even surface, reaching into the edges and corners of the room.
Working in a commercial environment requires and understanding and appreciation of business commitments. This works well with our fast and efficient processes. Once the limestone floor had been fully restored, it was then re-sealed using best-available products.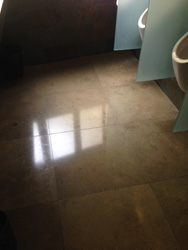 This was particularly important in the area where these tiles were fitted; this works to repel any spilled water and offers an improved protection against mould and mildew. It also means that routine cleaning is easier and keeps the floor looking at its best, for longer.
Our client was really pleased with the result; they mentioned that they did not expect the floor tiles to come up as they did and that they had never seen them look so great.
The images provide evidence of the wonderful transformation that limestone restoration can provide.
If you have any questions about cleaning limestone tiles we invite you to call Stone Reflection on 01494 727422 and we'd be happy to help.