Are you finding cleaning grout a challenging task? First it is maybe a good idea to discuss exactly what grout is and why it is so important.
Grout is the material used to fill the gaps between your floor tiles. It is generally a combination of water, cement and sand. Advances in the material have meant that grout is now available in a huge range of different colour tones to match your tiles and preference. It is a completely individual preference as to whether you select a grout similar to your tiles, lighter than them or in fact darker. Each option has its own advantages and drawbacks, and an understanding of this fine material will help.
Grout is an essential part of the tile installation process. Selecting the right grout for your particular project can make a huge difference to the overall success. It can also have a large impact on how your end product looks. Maybe more importantly, it will also dictate as to how well your grout stands the test of time.
Cleaning Grout – Some Top Tips:
One of our most important and helpful tips comes at the point of installation. Sealing grout is particularly important. This is especially vital in rooms with a lot of moisture such as kitchen or bathroom areas. The only type of grout that does not need to be sealed is epoxy which is impervious.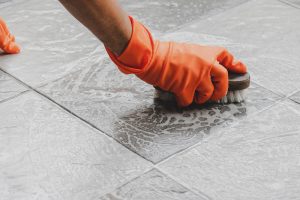 There are protector sprays which help to keep your grout lines clean. When you are cleaning your tiles, especially when water is introduced, it naturally gets pushed between the grout lines. Why is this? Grout lines will inevitably sit ever so slightly lower than your tile line. This essentially offers an indentation for dirt and water to sit. A protecting spray will help prevent this soaking into your grout and giving a dirty appearance.
There will come a time where you may need help to professionally clean your tiles and grout. We have vast experience and offer the highest standards and finishes for all type of stone floors. Get in touch by calling 01296 294304 today.