You may think that tile and grout cleaning services come hand in hand. Tile cleaning is a really comprehensive and exhaustive provision. This means that your entire tiled floor, including the grout lines will be deep cleaned during the stone cleaning process.
Routine cleaning should be quick and easy. It should involve readily available products that you are confident are right for your individual tiles. General tile cleaning products may not provide the optimum cleaning results. Different types of tiles benefit from tile specific cleaning products. Therefore, time invested in finding the best products will help you achieve the best possible results.
Tile and Grout Cleaning – Grimy Grout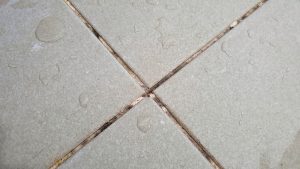 Grimy grout is really unsightly. If you own any stone floor you can sympathise with this. Generally, even the most careful homeowner will find that their grout lines get dirty over time. Grout is a porous material, and it suffers from general deterioration. This can be a slow and steady process but there is often a time where you feel the need for a deeper clean.
This is where we come in. Cleaning grout is part of our provision and the results we achieve are second to none. Returning dirty grout to its original sparkling condition may not be the most interesting thing to do. However, with a bit of elbow grease, you'll be surprised at the results and transformation of your tiled surface. It really is worth the hard work.
How do I best look after my clean grout?
When you have employed our services, it is important that you give your stone floor the best chance at remaining clean. Dirt and grime can get pushed into grout lines. Therefore, the best method to keep them clean is prevention. Remove dirt and particles routinely.
If you have any questions or wish to discuss our tile and grout cleaning services, please get in touch by calling 01296 294304.