When you are discussing tile restoration services, you are taking into account a range of services that complete the process. This includes deep cleaning, repairs, polishing and resealing. We are very proud of our tile restoration service and work closely with our customers to ensure we restore their stone floor to its former state.
Tile Restoration Services – Our Process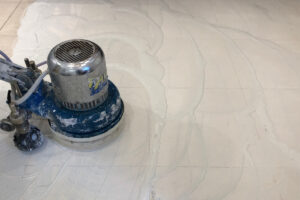 Using specially made abrasive pads, our floor machines grind the surface of the stone. They then hone it to remove the finer grains of dirt before polishing it with unique products. This provision is tailored for any particular type of stone floor, ensuring a high-quality finish.
We use individually designed products for cleaning specific stone floors along with our specialist cleaning equipment. Cleaning stone floors requires the professional touch to keep floors looking like new for as long as possible. Each type of stone needs specific requirements. This is a challenge that we really enjoy and take great pride in.
It takes time and experience to gain the knowledge required to understand the individual requirements of different types of stone. We are fastidious about our approach to restoring stone and appreciate that our customers experience must be our priority.
One of our clients commented:
"We have a travertine floor which was very dull with lots of natural holes in it which has become more and more grubby looking over the years. I called Clive who very promptly came out to advise that he could fill the holes and clean/polish the floor. We received a quote quickly and once accepted the work was scheduled in. The guys arrived on time and completed the work in a day. The results were way above my expectations! The floor looks fantastic. Great service, great results. Thank you."
If you would like to find out more about our stone cleaning and restoration services, please get in touch by calling 01296 294304.