Stone floor cleaning is a process that demands a number of steps. Although these steps are similar for each project, they will range in how these are carried out. What might dictate this? This may depend on what state the floor is in when you start the process.
As with so many other things, preparation really is key. Being confident with this process can also play a role in the success of the project.
Stone Floor Cleaning Preparation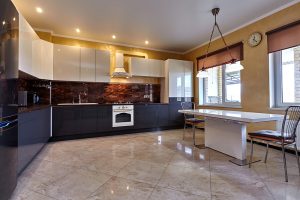 Floor cleaning preparation is very important. When you employ a professional stone floor cleaning and restoration specialist, this is accompanied with our extensive knowledge and experience. What happens during the preparation process?
Our skilled technicians will inspect the floor to ensure to identify all possible problem areas. This may include loose tiles, lippage (an uneven tile surface), scratches, grout haze on tile surface (grout residue which dulls appearance and captures dirt), stains and discolouration.
Before any work is carried out, the floor is thoroughly vacuumed. This works to remove any damaging grit and unwanted debris. Then a protective cover is applied to mask off surrounding walls and furniture.
Where required we fix loose tiles and replace any cracked tiles prior to cleaning. This can be done with spare tiles that you have kept or that we have sourced. We then re-grout the tiled floor. Once dried we can start cleaning works.
Although this process is comprehensive and carefully planned out, it is only essentially the start of the process. The deep cleaning process will then take place, removing all previous seals. This process is completed with specialist products, machinery and tools. This effectively prepares the floor for a protective impregnating seal to be applied. What does this do? This works to prevent the ingress of oil and water-based spillages.
We are passionate about restoring stone floors. If you have any questions or would like to request a survey, please call today on 01296 294304.