Cleaning stone floors is an exciting process. We get to travel our area and work with some of the most incredible clients. Our stone cleaning services are available for all domestic and commercial clients. The projects we complete always range in size and scope. We often say that no job is ever the same.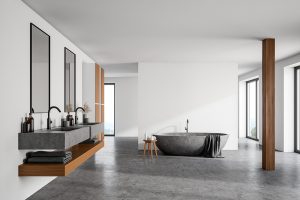 Although this is true, there are parts and elements of the process that are similar. We are always happy to rise to the challenge and are confident that we can offer the best possible results. Our experience has allowed us this confidence. While this remains true, we are always looking for ways in which we can continue our learning.
It is important to remember that any trade evolves. It is therefore important to remember not to stay stagnant in the products and techniques you use.
Why Cleaning Stone Floors is Important?
Stone floors look great. However, dirt and grime carried in from the outside can build up dirt on the surface. Oils from your feet can transfer onto the tile surface. This can be made worse by any animals you may have in your home.
Over time this combines to discolour the surface of your stone floors. General cleaning will aid the process. However, deep cleaning becomes a real challenge if you do not have the correct equipment. A tiled floor will be sealed when it is laid. From this point it is important to reseal the surface periodically.
Professional stone cleaning is a cost-effective service. We deliver the most incredible transformations and always leave our clients with advice on how to keep up with their regular cleaning. Did you know that regular maintenance cleaning plans are available for those who wish to delegate the whole process to us?
Get in contact to request a no obligation quote for cleaning stone flooring. Our phone number is 01296 294304.