Looking for advice on how to clean Travertine tiles? First it is important to acknowledge that they look great, they offer incredible versatility, and they are extremely durable. Travertine floors can offer a lifetime of service, if cared for appropriately.
The following guide offers the key to correct care and ensures that your floors remain looking at their best.
Our Guide on How to Clean Travertine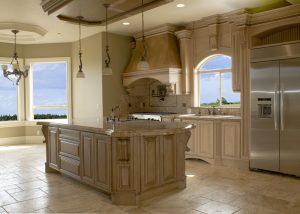 The key to regular cleaning is the selection of the correct product formulations for your particular floor. Travertine as a natural stone varies in their ability to deal with cleaning agents. Therefore, a stone-specific formulation is key. It will ensure that adequate cleaning results are achieved without damage to your floor.
A tip to ensuring that your product selection is appropriate for your floor is to test it on an inconspicuous area of your tiled floor. Also, never use bleach and always apply the cleaning agent with a soft cloth or mop. Try not to over wet the floor and ensure that all residue is rinsed away. Residue left on the tiles will attract dirt and the result will be dirtier tiles than you started with.
Specific brushes are available to deep clean grout lines. Be careful when cleaning the surface of your Travertine tiles as dirt can easily be pushed into the grout lines. Grout is porous, so this means that it will get dirty very quickly. The dirt gets ingrained and can be a real challenge to remove.
Travertine floors experience general deterioration over time. This may mean that the surface seal has been degraded. Therefore, a stone sealer may need to be applied to ensure the tiles are equipped to repel daily wear and tear once again.
It is always wise to seek the assistance of a professional stone cleaning and restoration specialist. We are equipped with the professional machinery and products to deep clean your Travertine floor tiles and grout prior to re-sealing the surface.
If you would like to request a travertine cleaning quotation, please get in touch by calling 01296 294304.