Restoring stone tiles does not need to be a stressful and pressured process. Once you identify a local and reputable stone cleaning company, you will build a relationship with them based around trust. Our professional approach has allowed us great success throughout Buckinghamshire, Berkshire, Hertfordshire and much of London.
Restoring Stone Tiles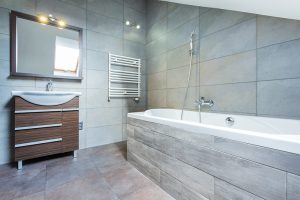 There are absolutely benefits beyond the improved appearance to restoring your stone tiles. When you build a programme around regularly cleaning and maintaining your stone floors, you will benefit so much.
It might sound like it makes sense but any stone tiles that are regularly maintained will be easier and simpler to clean. The process won't be so in depth. This allows you to be less daunted and therefore there will not be barriers to regular cleaning.
A stone floor that is regularly cleaned using the correct products will offer great protection against stains and daily wear. This goes beyond the fact that the tiles will look great for longer. It will mean that you are less likely to damage the tiles. Liquid will sit on the surface of the tile instead of penetrating into the stone.
Tiles that are correctly looked after and restored will last longer. Stone tiles are a brilliant alternative and have the reputation for lasting many years. This is further proof that they are a cost-effective solution.
We are able to offer domestic stone cleaning and commercial stone cleaning services and enjoy the challenge of bringing new life back into beautiful stone tiles. You can count on us to help you keep your investment looking great and lasting for many years, should it be cleaning, refurbishment or repair.
If you would like to get in touch to request a stone restoration quote, please get in touch by calling 01296 294304. It takes time and experience to gain the knowledge required to understand the individual requirements of different types of stone. We are fastidious about our approach to restoring stone and appreciate that our customers experience must be our priority.