We specialise in all aspects of stone floor cleaning and restoration. Part of what we enjoy is taking the stress and concern away from our clients. They are able to delegate the cleaning and overall restoration of their stone floors with ease and simplicity. This leaves them in the position that they can simply enjoy their beautiful and long-lasting stone floors.
Whether you have a man-made tile floor or a natural stone floor, we are able to help. Each type of tile has its advantages and vulnerabilities. A lot of these can be linked to the original cost when you lay your stone floor. This is not always the case. However, if you have looked to purchase a more cost-effective tile, you may need more support with care and cleaning throughout its life.
Either way, stone flooring is an investment. It is one that is well worth protecting and we can help you get the most out of it.
Stone Floor Cleaning and Restoration Services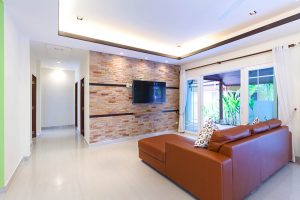 The range of stone cleaning services you need will depend on the type of floor you have and its condition. There are other elements that play an important role. However, we are able to offer full advice when completing our survey.
Another deciding factor will be the type of finish you would like to achieve. A polished finish will require additional steps rather than a honed finish.
You will often hear different terms being used. These may include stone cleaning, stone polishing and stone floor restoration. Stone cleaning and stone polishing discuss parts of the process where stone restoration encapsulates the entire service. We are able to offer individual advice on what is best for your floor. This means that you won't be paying for unnecessary work. We look to earn your custom for life and therefore will go the extra mile to deliver exceptional results.
If you would like to find out more about our stone floor cleaning and restoration services, please call today on 01296 294304.