Have you got a stone worktop of stone floor that has lost its lustre? Could it be that the stone sealer has worn away? Could you stone need re-sealing?
An incredibly important element of restoring stone is to seal it. There are a range of stone sealers available. Our experience has allowed us the benefit of sourcing only the best-available.
Sealers are chemically engineered to penetrate deeply into the stone. Whilst this offers a level of repellence, it does not mean that your stone is impossible to etch or stain. However, once re-sealed, stone surfaces are offered the highest possible protection.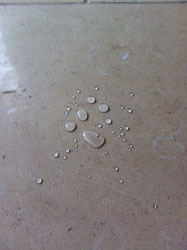 Part of our superior provision means that we are able to best recommend the most appropriate sealer for any application. However it is important to know that:
Sealing cannot prevent etching on your stone surface:
Etching is a chemical reaction that works to erode the surface layers. This then tends to leave dull marks, known as etching. If your stone surface is etched, it will require our restoration services to restore its appearance.
It is therefore important that specific products are used regularly in order to ensure the effectiveness of your sealed stone. Caring for your stone floors and worktops offers a sure-fired way of elongating its lifespan.
It is important to seal your stone to maintain its ability to repel spillages and wear. Ensuring that the surface, whether a work top or a floor, is clear of dirt particles is also vital. These particles will work to deteriorate the stone's surface. This happens either by acting as a grinding agent or with its natural oils. Abrasive elements need to be removed carefully so that the surface is not scratched in the process.
The best advice that we can offer is that if you have questions about whether your stone surface requires resealing is to call our helpful staff today on 01296 294304. Give your stone the opportunity to shine once again! Call today!