Travertine cleaning is rewarding. Travertine tiles are an exceptionally beautiful natural stone. They offer a striking appearance and suit many properties. As with many other natural stone types they are available in a range of tile sizes, grades and even colours.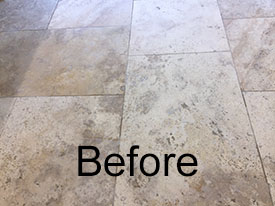 We were asked to survey this Travertine floor in Seer Green, Buckinghamshire. When we arrived, it was evident that the Travertine floors were quite soiled and dull. This was likely due to the fact that the floor had not been maintained regularly.
Deterioration of any stone floor can happen over a number of months which means that often this goes relatively unnoticed. That is, until you realise that your once beautiful stone floor has started to look lifeless.
Another element that can deteriorate stone flooring is the use of incorrect products. Natural stone tiles are porous so it is really important that the correct cleaning formulations are used. This, coupled with the knowledge of cleaning techniques will help your Travertine floor look at its best, for longer.
When we arrived we assessed what needed protecting. Our client asked us to remove and replace the furniture as part of the service.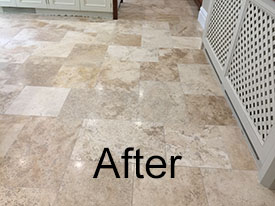 We used strippers to remove any existing stone sealer product still on the floor. Due to the dullness of the floor we also needed to use a special cleaning sand after stripping the floor.
We then deep cleaned floors and grout throughout using our specialist machinery. The next step was to polish the floors with polishing powders. After this the floor needed to be totally dry before applying the new sealers to the floor. Finally, we buffed the floor with special pads.
This process requires in-depth knowledge in order to achieve the best results. Identifying the correct products compliments the process and offers an exceptionally striking transformation.
Has your stone flooring started to deteriorate?
Is it becoming more and more difficult to keep clean? Our stone cleaning and restoration services are cost-effective and ensure your floors are easy to maintain and keep clean. Call 01296 294304 to arrange a no obligation quotation. We are here to help.