Both natural stone and porcelain tiles have their advantages. If you are considering a new stone tile floor, then it is important to understand each benefit and drawback. This allows you to make a decision that is based completely on your individual needs. This is probably one of the most important factors. Whichever decision you make, it must be right for you. What is right for your family may not be what is right for another.
Natural Stone Vs. Porcelain Tiles; what should I consider?
There are many practical considerations that will need to be taken into account. Furthermore, natural effect tiles have come so far since their inception. The original manmade tiles didn't tend to look very realistic. Their surface finish felt plastic, and the pattern repeat made it simple to see that they weren't natural stone.
However, advances in technology really have made the process highly technical and more sophisticated. This has followed seamlessly through to improved appearance and feel. This makes it quite a challenge for anyone to see that they aren't a real natural stone tile.
The Benefits of Porcelain Tiles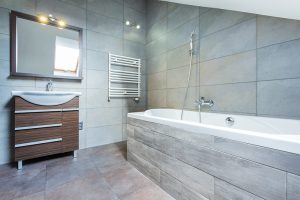 Some believe that there are more effects and finishes to choose from. This means that you are able to carefully select an alternative that matches your existing décor. You have the opportunity to select more patterned tiles that will allow you to create a more striking appearance.
All porcelain alternatives are water-resistant which offers great functionality. Whereas natural stone can be quite problematic of left wet. Generally, porcelain does not need to be sealed. There may be instances where you choose to restore and reseal them. However, this is infrequent and general cleaning and care will be enough to keep them looking great. They also boast great stain and water resistance.
The minerals used during manufacture are fired to incredibly high temperatures. This helps ensure that the finished tiles are extremely strong. Porcelain is incredibly durable due to the process it undergoes during manufacture.
The Benefits of Natural Stone Tiles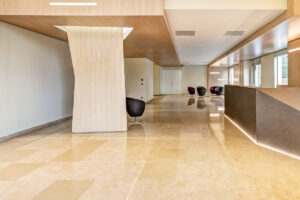 To some, there is no comparison to the real product. Why is this? This is often due to the natural stone's real beauty. Once, installed, it does require a certain level of tender loving care. However, some believe this is entirely worth it. Natural stone is dense and hardwearing and with the correct care will last forever and age beautifully.
Natural stone is formed over centuries. It is therefore steeped in history before it reaches your home. Stone flooring brings with it soul and character, which can be matched to any type of property. It will add value to your home and has the most striking appearance, creating a luxurious statement flooring.
As to whether you choose natural stone tiles or porcelain tiles, comes down to personal preference. However, rest assured that both types can be professional cleaned and restore when the time comes. We offer extensive stone cleaning and stone restoration service. Call today on 01296 294304.