We are Terracotta tile cleaning experts. Terracotta Tiles offer great character to any space where they are fitted. As a natural stone they offer incredible durability and longevity. They can be deep cleaned by professional stone cleaners. This process effectively keeps them looking at their best for the time that they are laid.
As with other types of natural stone, they will inevitably suffer from wear and tear. They are often found in kitchen areas and so therefore experience moisture variations and water spillages.
We were invited to restore this Terracotta floor in Buckinghamshire. We take great pride in our stone restoration processes and the results that we achieve. Photograph one shows the state of the floor on the top step when we arrived.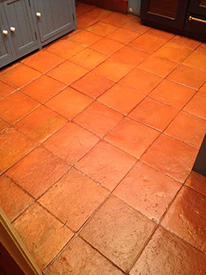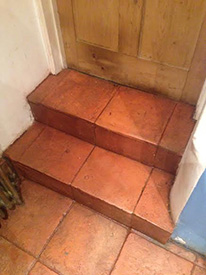 The second image shows when the Terracotta floor was completely stripped. This means that all of the old surface coatings were removed and the tiles left in their natural state.
From this point the tiles can then be sealed and finished. The following images show the incredible finish that we achieved.
The kitchen floor was left completely transformed and appropriately sealed so that it offers resistance against damage and moisture.
What benefits do Terracotta Floors offer?
Terracotta tiled floors offer warmth in their colour
They are long-lasting and, if cared for correctly, will continue to look great
Terracotta tiles are resistant to mould and mildew
Once restored they are easy to maintain and clean
Have you got an old Terracotta floor that has seen better days? Are you aware of cleaning services that are offered to restore them? Even the dirtiest tiled floor can be cleaned to like-new.
If you would like to find out more about our stone cleaning and stone restoration services, we would invite you to call us on 01296 294304. Furthermore, we are confident that we are the best-served Company to restore your stone floor.