Worktop repairs are not necessarily something you would try and take on yourself. The likely outcome is an area that is still very visible and may likely not last. These are the key elements to any worktop repair. We are skilled at what we do and have a reputation based around trust and delivering brilliant finishes for worktop repair services.
Your kitchen worktops are, arguably, some of the most frequently used surfaces in your home. Generally, the kitchen is the hub of the home and we all spend a lot of our time in there. It is therefore inevitable that there may be some damaged you need to fix. Stone worktops have a reputation of being incredibly durable and hardwearing. This is certainly the case, but they are not impossible to damage. As a natural material they can chip, crack and discolour.
Options for Worktop Repairs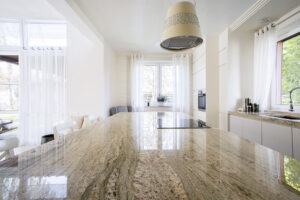 For many, a kitchen is a place of pride in their home. It is a place we tend to entertain and show visitors. Therefore, it can cause a panic when a worktop chip or scratch is found. So many clients envision having to replace their entire kitchen worktops in order to fix the issue. In nearly all cases, a repair can be completed with exceptional results.
Total replacement isn't needed, can be avoided and will therefore save you money. By repairing your kitchen worktops rather than replacing them, you are saving yourself money, hassle and even helping the environment too. Less items going into landfill will have a better impact on the environment.
We appreciate that damaged worktops can be a source of stress when you find them. However, we are on hand to offer the best advice on how to fix it. We take professional pride in our restoration services and will achieve the best finish for you.
The range of damage to your kitchen worktops we can repair at Stone Reflection is great.  Get in touch to find out if we can help and request a no obligation quotation. Call today on 01296 294304.