Our clients report different issues when considering restoring limestone tiles. We have put together some information which we hope helps to guide you with some of the common problems. It is important here to say whatever the problem, we are here to help. We have vast experience in cleaning and restoring limestone tiles. We want to offer assurance and guidance that we will be able to skilfully restore your limestone to its like-new condition.
If your Limestone tiles attract dirt easily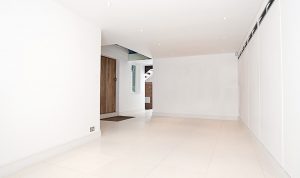 The cause of this issue is likely to relate to the stone sealers applied. If incorrect stone sealing products are used, then dirt becomes embedded into the floor. This can prove to be nearly impossible clean with normal cleaning methods. When restoring limestone tiles, it is important to strip back any old coatings. A high-quality limestone sealing product will then be used. This allows easy and straight forward cleaning from that point.
If your Limestone tiles are cracking or chipping
There are different possible causes for this. When the tiles were laid it may mean that the subfloor did not have sufficient drying time. Subsequent movement can cause cracking. Laying the floor tiles originally demands natural drying of adhesives and grout. If at any point the temperature is too high, then this may also cause cracking. Structural movement is less likely, but it proves the importance of skill and understanding when laying any limestone tiles.
We are able to carry out extensive stone repair services. We will discuss each of these when completing the survey process. Rest assured that your stone floor is in safe hands with our skilled technicians. We are a family-run business and take great pride in our stone restoration results. Our reputation is built around the delivery of incredible results, coupled with customer care. If you would like to request a quote, please call today on 01296 294304.