Stone polishing is a trade steeped in history. An inevitable challenge within the stone restoration trade is the fact that individual stone types have their own intricacies. Therefore they require a tailored approach to cleaning and restoration.
This is a challenge that we approach with dynamism and where our experience pays dividends. A true understanding of these aspects:
Ensures that stone tiles are skilfully restored to achieve the best finish
Ensures that the stone flooring is not damaged during the process
Many are not aware of the stone polishing techniques that are available. Furthermore, they may not know about the way in which this service can transform stone floors. We are here to help.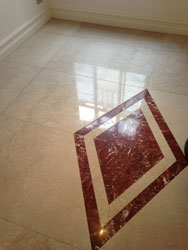 A key to a successful outcome is the preparation required. We treat our client's homes and properties with respect and this is evident throughout our preparation process. Further, the room is cleared of belongings and non-moveable items are fully protected. This ensures that they are not damaged or marked during the restoration process.
Did you know?
Stone polishing is a rigorous process. Special products and machinery are used in order to grind the top layer, giving way to a fresh and new surface. Old coatings are removed and any other existing issues can be addressed.
This grinding process uses expert equipment. This process is required on particularly scratched or damaged stone floors. The polishing process then further grinds the stone but produces a smooth finish. This can be adapted to the individual requirement of the client.
Once this has been completed the entire floor requires the application of a stone sealer. Even coats are applied and allowed to fully dry between applications. We are happy to give information about stone sealing products and formulations. These work to clean your tiles and help manage their maintenance.
If you have any questions about polished stone tiles or if you would like to arrange a quotation please feel free to call today on 01296 294304. We are happy to help.