Stone floors are so versatile. When contemplating a stone floor, it is likely that you are looking for an alternative that reflects your personality. You may also be looking to showcase your design preferences. Whether these are intricate mosaics or a large expanse of natural stone, stone floors offer a variation that will compliment your vision.
Stone flooring…
…is intrinsically beautiful and always looks stylish, whatever setting it is in. Its surface does not harbour dust or allergens and dirt can be routinely removed by the simple process of sweeping.
There is a lot of information available when selecting a stone type. However, it is important to remember that we offer a full and comprehensive range of stone restoration services. These cover all types of natural stone and man-made tile.
Did you know?
A stone tile that is more porous is likely to be less durable or dense. What does this mean? It means that a tile that has a higher porosity will likely be better-suited to an area with less foot traffic. These softer stones may also require more frequent cleaning and additional care when dealing with staining.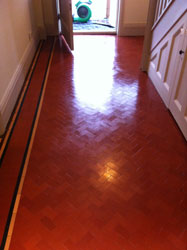 Some of our clients lean towards a natural product; natural stones such as marble, granite, travertine and slate offer an unrivalled uniqueness due to variations in veining, natural imperfections or fossil patterns.
On the other hand some people have a preference the uniformity and consistency of man-made tiles.
Either way stone floors are stylish and unique and will stand the test of time if you are equipped with the correct knowledge.
Stone Cleaning and Restoration:
Our stone cleaning services look to offer a long-term solution to keeping your floors looking at their best for longer. If you would like to arrange a quotation for us to clean your stone tiles and grout please call today on 01296 294304. Why stone floors? The transformations speak for themselves.