Archive for the 'Limestone Tiles' Category
By stone1 On May 20, 2015
No Comments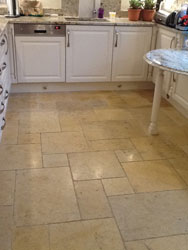 These pictures show the before and after of a limestone floor that we restored in Great Missenden. We specialise in stone restoration services and make sure that we go the extra mile with every part of the process.
This has allowed us the benefit of a well-respected local reputation for delivering exceptional finishes and customer service.
Our clients were so pleased with how their limestone tiles looked after deep cleaning and restoration.
They were very kind in offering us this wonderful testimonial:
"I am delighted with Stone Reflection and their high standard of customer service and the quality of their work. I emailed them on a Saturday night, having found them using Google.
My limestone kitchen floor looked dull and the ivory grouting was dirty. I was at my wits end trying to clean it and make it look good again. To my surprise, Clive emailed me straight back. Then he arranged to come to see the floor on a Bank Holiday Monday – pretty good service, I thought! He told me it needed cleaning and re-sealing.
Clive and Joe arrived bang on time, on the agreed date. They moved all the furniture for me and worked away with no fuss. They were very pleasant and helpful.  A few hours later I had a beautifully clean, polished limestone floor that looked even better than when it was new.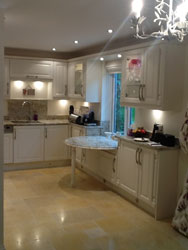 The bright ivory grouting (big mistake!) had mellowed and looked a calmer beige, which blended much better with the stones. The whole room looks lovely again. So I will now recommend Stone Reflection to everyone and they are returning to clean my carpets soon. Thank you, Clive!"
Why Choose Stone Reflection:
Our client's positive experience is our priority
We have time-served experience allowing us to tailor our services
Our knowledge of stone cleaning products means that we can offer exceptional finishes
If you would like to enquire about our services please call our helpful staff on 01494 727422.
By stone1 On October 11, 2014
No Comments
Limestone is an incredibly eye-catching natural stone tile. It fits well in both contemporary and more traditional business and home settings. We were invited to grind, polish and re-seal these beautiful limestone tiles that were laid in a gentleman's toilet.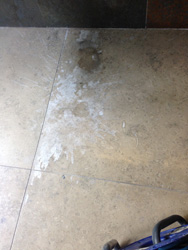 The before images show how dull the limestone flooring looked prior to our tailored restoration process. There was no getting away from the fact that they looked lifeless and unsightly and did not provide the upper-class image that the establishment wanted.
The stone grinding and polishing processes utilised our state-of-the-art machinery and this was used in combination with industrial-strength, eco-friendly products. This provided an even surface, reaching into the edges and corners of the room.
Working in a commercial environment requires and understanding and appreciation of business commitments. This works well with our fast and efficient processes. Once the limestone floor had been fully restored, it was then re-sealed using best-available products.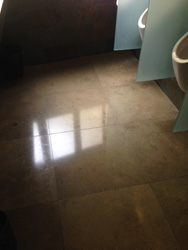 This was particularly important in the area where these tiles were fitted; this works to repel any spilled water and offers an improved protection against mould and mildew. It also means that routine cleaning is easier and keeps the floor looking at its best, for longer.
Our client was really pleased with the result; they mentioned that they did not expect the floor tiles to come up as they did and that they had never seen them look so great.
The images provide evidence of the wonderful transformation that limestone restoration can provide.
If you have any questions about cleaning limestone tiles we invite you to call Stone Reflection on 01494 727422 and we'd be happy to help.
By stone1 On September 17, 2013
No Comments
Limestone tiles are beautiful and naturally warm. They instantly lift a room and offer elegance and opulence. They are available in a large range of colours from whites and creams through to black.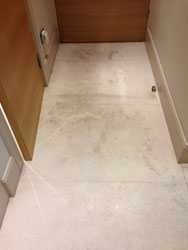 Once fitted, limestone flooring is versatile and durable. As a porous natural stone, it requires specialist knowledge in order to get the best possible stone restoration results.
We are passionate about limestone; our time-served experience has allowed us the detailed knowledge required to restore and repair limestone floors, fireplaces and counter tops.
We were invited to restore these limestone floor tiles in Slough. Over time they had become marked, dull and scratched.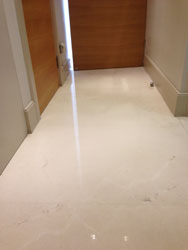 We offered a full inspection of the flooring in order to provide a written quotation.
Once accepted, we set a date for the work to be completed. We work hard to keep our clients well-informed throughout the cleaning process.
We protect all skirting, furniture and walls and treat your home or business with respect. We offer the highest level customer service, earning us repeat work and recommendations.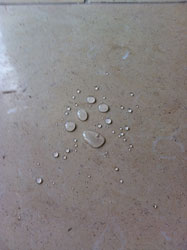 This picture shows the limestone tiles after our full restoration process. It really does show the incredible transformations that can be achieved. The owners were absolutely astonished by the results.
This picture is a close up of the limestone flooring once it was treated with our specialist limestone impregnator solution.
This provides a protection against liquid spills and a natural resistance. It is a vital part of the process and we are happy to discuss your options with you prior to work starting.
Stone restoration is a hugely rewarding process and limestone cleaning is just part one element of our specialist services. We invite any enquiries by calling Clive on 01494 727422.