Archive for the 'Marble Tiles' Category
By stone1 On March 1, 2016
No Comments
Natural stone is undeniably well-suited to both domestic and commercial properties. If you were to ask an individual to describe their ideal home, it is likely that natural stone would be listed as part of that.
As well as providing a sophisticated floor covering, it offers functional and practical advantages. It is likely with daily use that a stone floor will start to show signs of wear, possible scratching, visible imperfections or discoloured grout.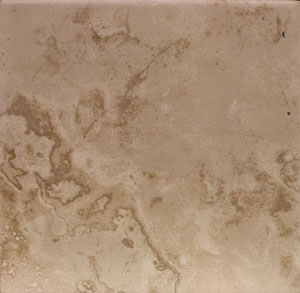 Although this is a gradual process, the stone flooring can start to generally look dull and lifeless. How does the stone restoration process work?
As a brief overview, this process works to deep clean and grind the surface of the stone tile. This allows dullness, scuffs, scratches and other imperfections to be erased and a new, fresh surface to appear.
This is the point that allows us to produce the required finish of the floor. Clients may opt for a more matte look or they may be looking to achieve a mirror-shine finish.
There are different levels of routine care that are required with varying stone finishes and we always aim to leave our clients well informed.
Here are some stone cleaning 'do's' and 'don'ts'
DO:
Use a stone cleaning product that is formulated to compliment natural stone
Keep on top of routine cleaning so that full restoration offers optimum benefit
Make sure to have your natural stone floor properly sealed
Blot up any liquid spills immediately once identified
Put a floor mat at all outside entrances
DON'T:
Use acidic solutions
Use harsh chemicals to remove staining
Wet mop the dirt particles so that they are pushed into the grout lines
Skip the stone sealing process
Stone restoration produces incredible results and offers a more durable and therefore longer-lasting stone floor. This pays testament to the cost-effectiveness of our professional service. Call today to arrange your quotation on 01494 727422.
By stone1 On December 10, 2013
No Comments
Marble floors have always been a popular stone flooring and the advantages of installing them have made sure that this popularity has continued in recent years. It is inevitable that the benefits of marble tiles in your home or business far outweigh the additional cost incurred for choosing this stone tile.
Marble provides a true statement for anywhere that it is fitted; it also lends itself to being suitable for all rooms and areas within a home. It is an incredibly hard-wearing stone and offers durability in areas where there is high foot traffic. Marble tiles can also be used in bathrooms, kitchens and utility rooms as they are resistant to moisture.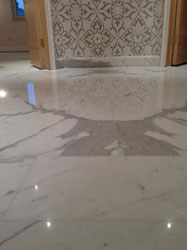 With the right advice, routine marble cleaning is low maintenance and easy. Minimal care with maximum benefit will leave you with a gleaming floor.
Installing a natural stone floor in your home will reduce allergens and bacteria and with proper maintenance can offer a much healthier environment.
If your marble floors become dull and dirty over time and through use, the marble restoration process restores your flooring back to its original lustre.
We were asked to restore this marble floor in London. Stone Reflection have vast experience in this process and have a tailored service;
Marble Grinding:
This strips back the existing surface, removing any old coatings and delamination.
Marble Polishing:
This further grinds the tiles with diamond encrusted grinders, producing a smooth and shiny finish.
Marble Sealing:
This process, managed often by hand, seals the marble tiles making sure that they are resistant against liquid spills and the build-up of mildew.
If you have any questions or would like to arrange a no obligation quotation please call Clive on 01494 727422. We go the extra mile to make sure every stone restoration project is managed with the highest level of professionalism and that our customers receive the best possible care.
By stone1 On September 18, 2013
5 Comments
Marble tiles are understandably one of the most recognisable stone tiles available today. They are timeless in their appearance and are well suited to both domestic and commercial premises. Marble floors are incredibly hard wearing and hugely popular.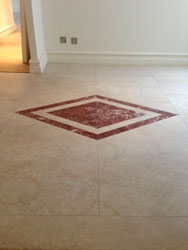 Periodic marble cleaning and marble polishing will restore your tiles to their former glory, inhibit ground in dirt and avoid unnecessary deterioration.
Our industrial machinery and products are specialised to clean marble flooring. Honing creates a smooth surface and this process is followed by buffing or polishing to create a shiny finish.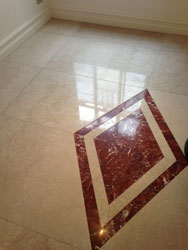 We were asked to restore this marble floor in High Wycombe.
The customers' stone flooring had suffered many years of neglect and was dull in appearance. It required minor stone repairs which we were able to carry out to a very high standard.
We are fastidious about our approach to stone cleaning and listen carefully to individual client requests as to the finishes they are looking to achieve.
If your marble floor is scratched, deeply soiled or has years of build-up, a marble restoration programme will be best suited. This picture shows the result after the marble cleaning process. The result speaks for itself and we received repeat work through recommendation from this client.
We can discuss a general maintenance programme with you to make sure the results are long-lasting and work hard to offer competitively priced services throughout High Wycombe and Buckinghamshire.
Please feel free to call Clive on 01494 727422 to discuss any marble polishing or stone cleaning enquiries.