Are you looking for help with granite worktop repairs in Aylesbury? We have served the local area with our specialist granite cleaning and granite repair services for decades. When it comes to a damaged granite worktop, it can be quite a daunting process to find local specialist. We are all well-aware that there will be companies out there that offer the service but do not have the time-served experience or reputation.
Stone Reflection are also well known for their granite worktop repairs. Our skilled team are comprehensively trained in the ever-changing science behind stone repairs. Products and techniques are ever evolving and so it is therefore very important that our team keep up to date with such training.
Are Granite Worktop Repairs Visible?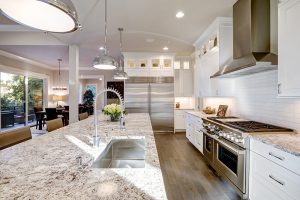 This is often the question we get asked. The truth is that we remain confident that we will achieve the best-possible results for your granite repair. A huge amount of our restorations we complete are nearly invisible. Furthermore, the results we can achieve will absolutely astound you.
With our wealth of experience, we will be able to forecast the success of your project. If there are any likely limitations, these will also be discussed at the point at which we survey your worktops.
Stone worktops are incredible. They look great and should last a lifetime. They offer an opulent statement for your home. Therefore, it is really important not to panic if you, unfortunately, chip or damage your granite worktops. You will be instantly reassured by our team.
One of our clients commented:
"We have a travertine floor which was very dull with lots of natural holes in it which has become more and more grubby looking over the years. I called Clive who very promptly came out to advise that he could fill the holes and clean/polish the floor. We received a quote quickly and once accepted the work was scheduled in. The guys arrived on time and completed the work in a day.
The results were way above my expectations! The floor looks fantastic. Great service, great results. Thank you."
If you would like to request a no obligation quotation please call today on 01296 294304.