Archive for the 'Travertine Tiles' Category
By stone1 On May 20, 2017
No Comments
Travertine tiles are an exceptionally beautiful natural stone; they offer a striking appearance and suit many properties. As with many other natural stone types they are available in a range of tile sizes, grades and even colours.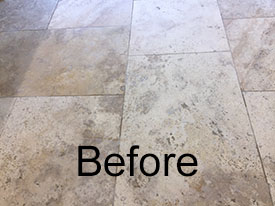 We were asked to survey this Travertine floor in Seer Green, Buckinghamshire. When we arrived, it was evident that the Travertine floors were quite soiled and dull. This was likely due to the fact that the floor had not been maintained regularly.
Deterioration of any stone floor can happen over a number of months which means that often this goes relatively unnoticed. That is, until you realise that your once beautiful stone floor has started to look lifeless.
Another element that can deteriorate stone flooring is the use of incorrect products. Natural stone tiles are porous so it is really important that the correct cleaning formulations are used. This, coupled with the knowledge of cleaning techniques will help your Travertine floor look at its best, for longer.
When we arrived we assessed what needed protecting. Our client asked us to remove and replace the furniture as part of the service.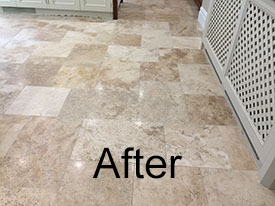 We used strippers to remove any existing stone sealer product still on the floor. Due to the dullness of the floor we also needed to use a special cleaning sand after stripping the floor.
We then deep cleaned floors and grout throughout using our specialist machinery. The next step was to polish the floors with polishing powders. After this the floor needed to be totally dry before applying the new sealers to the floor. Finally, we buffed the floor with special pads.
This process requires in-depth knowledge in order to achieve the best results. Identifying the correct products compliments the process and offers an exceptionally striking transformation.
Has your stone flooring started to deteriorate? Is it becoming more and more difficult to keep clean? Our stone cleaning and restoration services are cost-effective and ensure your floors are easy to maintain and keep clean. Call 01494 727422 to arrange a no obligation quotation.
By stone1 On October 15, 2013
No Comments
Travertine tiles are timeless in their appearance and are experiencing a huge increase in demand as they are laid in many contemporary homes. An expanse of travertine flooring oozes class and sophistication and is brilliantly suited for homes with children or animals due to the ease of routine cleaning.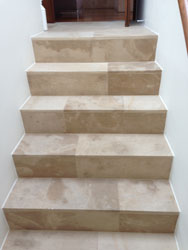 Travertine is available in a variety of shaped tiles; but the main difference with these tiles is whether they are unfilled or filled. They can be laid in a modular fashion, a brick bond method or simply laid in lines. Travertine mosaics are also available for that truly detailed finish.
We were asked to restore this amazing travertine stair case in Gerrards Cross. It is very rare that we have the opportunity to restore such an individual and stunning stair case. As you can imagine this area of any home suffers from wear and tear and foot traffic. This results in the floor tiles becoming dull and scratched over time.
We used our specialist rotary machinery and stone polishing processes to restore these travertine tiles. They were then sealed by hand to make sure that our results are long lasting. This client wanted to discuss a routine maintenance program to ensure that they could keep the stair case looking its best.
The installation of this stairwell took skilled craftsmanship and it was a pleasure to follow this up with experienced and specialist stone restoration. Stone flooring, if looked after correctly, can last a lifetime.
If you would like to find out more about the services that we offer please feel free to contact Clive via our contact form or by phone on 01494 727422.